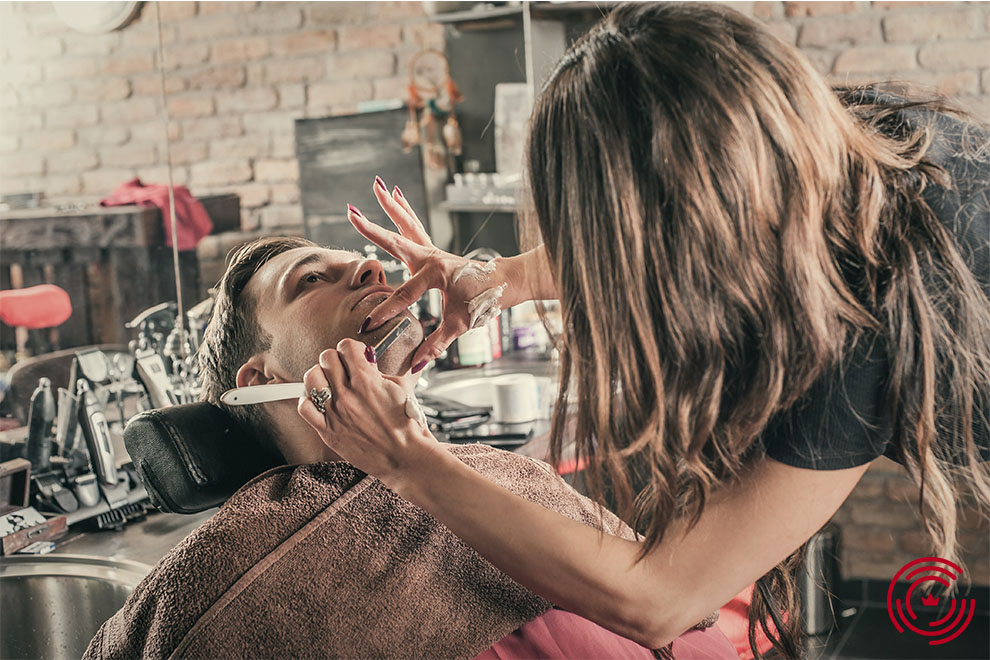 Who says that women can't be barbers?
Over 44% of women have taken over the barber industry by storm and breaking the cultural norms.
There isn't much difference between hairstylists and barbers since they share common duties like haircutting and styling hair. A woman who is a hairstylist can easily become a barber with the right skills.
Here is a list of some famous female barbers who are excelling in the barber industry and are proud to flaunt it:
Pope the Barber:

Brittany Pope, aka Pope the Barber, is a popular lady barber living proof that anyone can turn their dreams into reality.

In high school, she was a part of the basketball team and interacted with the boy's teams. They would cut their hair in the bathroom, and she used to offer them help to which the guys would refuse. Since then, she discovered cutting and instantly wanted to make a career out of it.

Brittany had her tool bag at a very young age, which had shears, razors, gels, and scissors. She saved money and opened up a barbershop in her hometown.

Currently, she is a popular social media influencer on Instagram and has a following of over 57k. She loves what she does!

Ashley Holtz:

Ashley Holtz is a professional lady barber who has got magic in her hands. She is a huge believer in "quality over quantity," and her work truly reflects that. Holtz takes pride in providing the best barbering services in town.

Having over 14,000 followers on Instagram, Holtz symbolizes women empowerment for aspiring girls who wish to succeed in the barbering industry. She knows her way around with the barbering tools and advocates for others to learn the art of using the tools that make one a perfectionist at work ultimately.

Her work keeps customers coming back to her to avail of services.

April Amarillas:

April has been a hairstylist for over seven years and started her barbershop. She has a specialty in short men's haircuts and knows how to use clippers and various tools.

She provides barbering service, but she is a mentor for underprivileged students who want to step into the hair industry. She gives demos on men's grooming as well as private classes across the country.

Being a single mom with two children, she single-handedly manages parenting and her barbershop like a pro.

Mariela Perez:

The 24-year old lady barber who was born in Mexico learned the art of cutting hair at the age of 17 and kick-started her career as a barber. Her parents couldn't afford to pay for further education after high school.

This was when she decided to lay her footprints in the barber industry and taught herself how to cut via YouTube videos and visit a local barbershop in her hometown.

As she got better, she could afford barber school, and now she is a proud owner of her own business. She is a passionate barber who can handle three clients in only one hour and knows how to satisfy her clients' impeccable skills.
Ring My Barber:
Looking for top barber services in town? Look no further than Ring My Barber.
Sign up on www.ringmybarber.com and use the app to book a barber of your own choice near you. Select the preferred time and place and get professional barber services.
Back to All Articles